When Jess and her husband, Mike, decided to renovate their home in the Spokane Valley in 2019, she began documenting the journey on her social media. "I just started sharing the process, and one thing sort of led to another," she says.
Now Jess, under the name _thewelldressedhome, has 103,000 followers on Instagram, nearly 200,000 on TikTok and 1.1 million monthly views on Pinterest. She does regular affiliate marketing posts and has an Amazon storefront. Several times a week, Davis offers updates on the various platforms from her homefront, including decorating tutorials, DIY projects and design inspiration. And she also now runs an interior design business, often drawing clients from around the country from among her followers.
Raised in St. Louis, Missouri, Jess says she loved drawing as a child and always wanted to become a fashion designer. But her career path initially veered into education, training that continues to inform her design work as she helps her followers and clients approach their projects.
"I didn't go to school for (design)," she says, "but I'd been doing interior styling projects for friends, and I had always cared about the aesthetic of my home. And when I got into this project I just realized I had a passion for it."
As the home renovation project progressed and more people began following the journey, Mike realized Jess was poised to create a successful business. "I did a few projects for free, and my husband finally said, 'No more! You have to charge for what you're doing,'" she says. "And so that's kind of how my business started."
Their home renovation project spanned nine months, beginning in the fall of 2019. Before deciding to renovate, the family had lived in the home for eight years, which Jess feels was valuable. "I think sometimes we can be rushed and pushed by trends and just want to just get into it. Sometimes taking that time can make such a huge difference."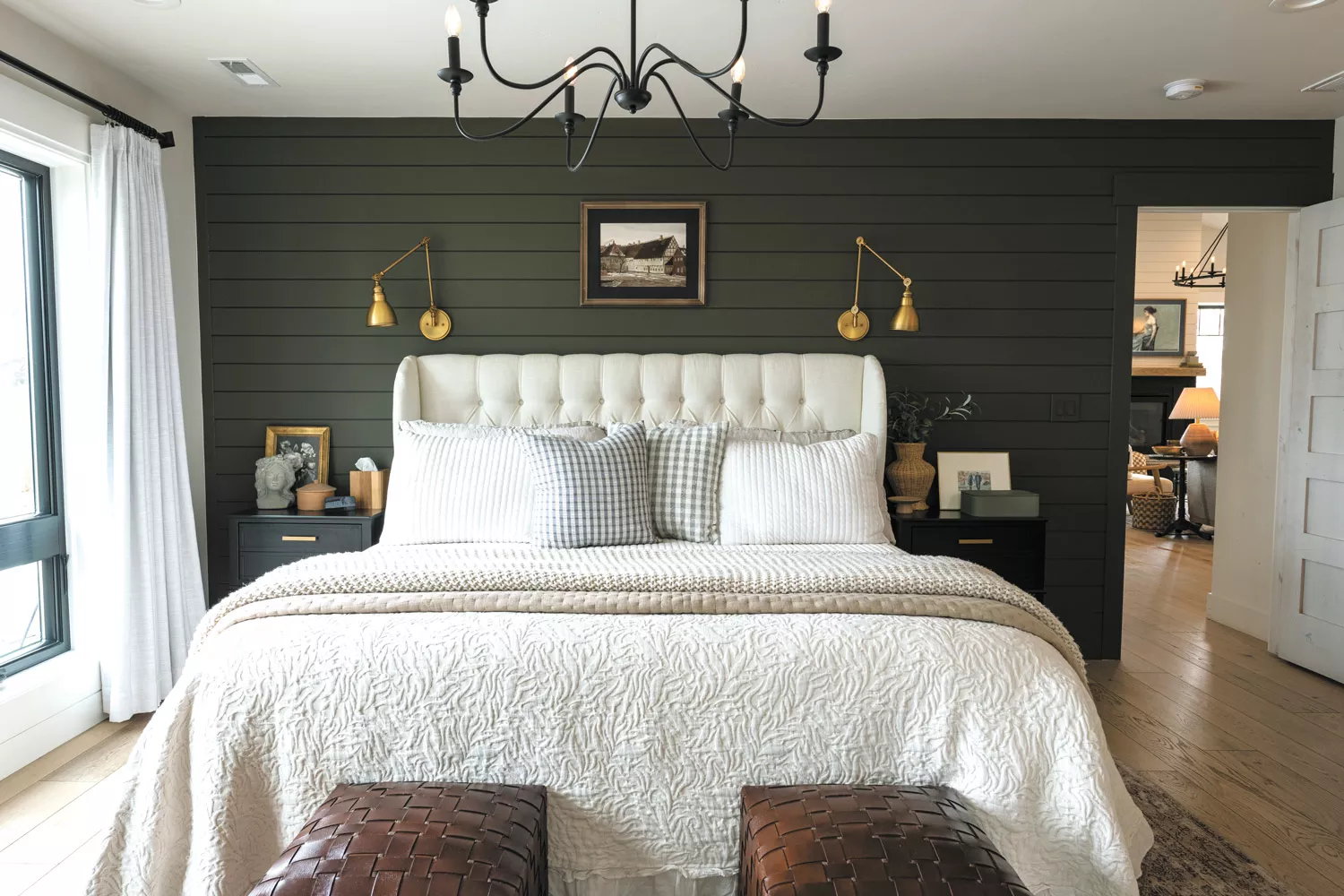 Indeed, every detail of the home received careful consideration as the couple took the original "builder grade" 1,300-square-foot home down to the exterior studs, says Jess. They worked on a strict budget. After getting a good deal on the home, Mike wasn't eager to overspend on the renovation. "That is actually what made us get really creative," she says.
They lucked out with a structure that originally had no interior supporting walls, meaning they could open up the space without installing costly new support beams. Mike was able to do all of the electrical work for their "smart home," which was a cost-saver. The couple say the project went surprisingly well considering that much of it occurred during the early months of the pandemic. Still, Mike says, "The very end is where all the detail work comes in, so you just have to be patient through that." By the time they were finished, the home had grown to 3,300-square-feet with five bedrooms and an entirely new second floor.
Standing in the great room, Jess describes her design process. "I draw on three things: Coziness for me is number one." Then she says, "It needs to be functional, and it needs to be aesthetically pleasing."
It's easy to see her design imprint in the room's details. Anchored by a large, cozy black fireplace topped with a frame television, there's plenty of comfortable seating and conveniently located end tables to create an inviting space to sit and visit. And while the setting has the perfected look of a staged room, for Jess, "Function always outweighs aesthetics… So if there's a basket, there's a reason for it; if there's a bin, there's a reason for it — there might be remotes in there, there might be matches in there, that sort of thing."
In fact, Jess credits that attention to function for making it possible for a busy young family — with three kids aged 9, 8 and 4 — to enjoy life in a house that's regularly on display. "We live here — it's not like my kitchen isn't a mess when we cook and the kids get out games and stuff. It gets messy!" she stresses. "For me everything has to have its space. It's a peace. I feel like when I started to be thoughtful about where things went — you know, a 'don't put it down, put it away' mentality — I noticed an impact on my mood and my mental state, and my childrens' moods too. Having them see that this is a community that they participate in — we're all working together — is such a valuable thing."
Aesthetically, Jess particularly enjoys combining patterns and textures — a checkered throw tops a striped settee in front of the fireplace, while block-printed pillows find a home on the sofa nestled with a fuzzy knitted throw, all of it settled on a muted-toned patterned rug. The secret to combining successfully is careful observation of the color palette, something Jess carried through the entire home — including the kids' bedrooms and bathrooms upstairs — to create continuity. "Even if you change the space stylistically, that's OK — the color palette holds it all together."
The kitchen features soft gray below-counter cabinetry with ample windows above, an island that seats four while concealing storage underneath, and a walk-in pantry for even more storage. The pantry was recently renovated — for a second time — by Jess, who just wasn't happy with their initial efforts. Also unhappy about having to re-do it, she gave herself a strict budget of $300 for the project. She installed beadboard wallpaper and crown molding, then painted it all in a moody deep green. The shelving and counter got updated with a darker stain. With a little help from Mike on the crown molding, Jess did the whole project herself, and says it's now one of her favorite rooms. "Aesthetic and function really can co-exist!" she says. "Such a cool project. It was really my first big DIY."
After the whirlwind of the last few years, Jess reflects on her relatively new career as a designer and influencer. She says she makes about half of her income from affiliate sales and half from her design business at this point. She's taken on a design intern to help with smaller projects, but most of the business flows directly through her. "It's a lot of pressure, and you feel you have to constantly evolve and keep up. And it can feel like a lot. It's my home, but more than that, I just want to love what is and not always feel like I have to change everything."
"I just want to love what is and not always feel like I have to change everything."

tweet this
Nonetheless, Jess reveals she's already designing a new home for property the couple has purchased in Liberty Lake. "I have very big plans for that property," she admits. "But I'm loving this house a lot and not wanting to rush it."
Rules of Thumb
• Function outweighs everything else.
Before launching into decor, Jess says to carefully consider your objective. "What do you want to get out of a space?" As a busy mom, she wanted the convenience of a door to the laundry room from the primary suite.
• Start at the floor and work your way up.
"A rug is a really good place to start. Then you know your color palette, and you build from there." Incorporating the same color palette throughout the home lends continuity even when the style elements of various rooms are different.
• Make choices that have meaning to you.
"Think about connections back to yourself. Is there something that is relatable, connectable?" Jess chose the blue and white tiles in her daughters' bathroom because they reflected her Spanish and European heritage.
• "Accent walls are fading fast."
Jess says, "I've now come to believe that it's sort of a commitment issue when you just do one wall." Consider boldly treating all the walls — whether in paint or wallpaper — the same.
• Think about resale.
"When I'm working with clients, that's something I talk to them about. If you do sell it, what can you do to make it more appealing?" Jess opted to create an ADA compliant bedroom on the home's main floor with resale in mind.

link