With declining congregations, shuttered chapels and an ever shrinking number of priests, it is easy to assume that church in the US is on the way out for good. As parishes struggle to attract younger generations, and almost a third of Americans now declare no religious affiliation, this one nation under God seems to be rapidly losing its faith.
But some regions are bucking the trend, particularly in the south and west. In California's Central Valley, the agricultural heartland of dairy farms and orchards that sprawl across the state's flat fertile plains, producing half the country's fruit and veg, the Catholic population is booming, and busy building. Rising out of the rolling landscape of fruit and nut trees, which march in a mesmerising grid as far as the eye can see, stands a gargantuan new beacon that here, at least, God is back – with bigger ambitions than ever.
At a crossroads on the outskirts of Visalia, a small city 200 miles north of Los Angeles (where the local paper once remarked, "There's nearly more cows than people"), Christian fervour is brewing. On one corner stands the 3,000-seat megachurch of Visalia First, a big shed wrapped with the full-height tinted windows of a car showroom. Across the six-lane intersection is the more modest octagonal pavilion of the United Methodist church, as well as a Kingdom Hall of Jehovah's Witnesses. And on the fourth corner of the holy junction, bringing a stately air to proceedings, now stands the biggest Catholic parish church in the whole of North America.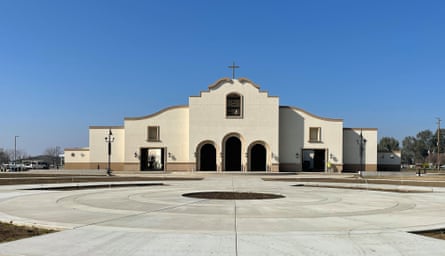 From a distance, St Charles Borromeo church looks like it could be a great barn, or an out of town wine warehouse with Mediterranean aspirations. A large octagonal cupola rises above a cruciform hall, with creamy stucco walls and a roof of rustic terracotta-coloured pantiles. It greets its 880-space parking lot with a broad, stage set-like facade, a faintly baroque silhouette signifying the function within. This is an ecclesiastical billboard in the manner of Robert Venturi and Denise Scott-Brown's "decorated shed" – a sign, legible from the highway, complete with three arched doorways and a niche for three bells (fixed in place, with speakers behind, natch).
"We wanted to hark back to the original Californian missions," says Mark Russell of Radian Design Group, the architect of the new church. "Which was a struggle. The missions were always very narrow, due to the available materials, but we had to accommodate 3,200 people in a wide, column-free space."
Beginning in 1769, the Spanish Franciscan order established a series of 21 missions up the coast of California, spaced a day's horseback ride apart, in a colonial campaign to convert as much of the Indigenous population as possible. Built using the forced labour of subjugated Native Americans – a dark history that the Catholic church has been reluctant to reckon with – the structures were dictated by whatever materials were available. They often featured thick adobe walls, heavy timber roof supports and clay tiles, with simple white plaster facades, moulded to recall the churches of the friars' native Spain. It was a question of creating maximum impact with minimum means, the flamboyant theatre of Roman Catholicism filtered through a more frugal, primitive lens.
The Mission Revival style was popularised in the late 19th century, when nostalgia for simpler times was in full swing. It has since been used for everything from schools and railway stations to supermarkets and movie theatres, becoming the de facto folksy Californian vernacular. So, to see it now redeployed for its original purpose takes some cognitive readjustment: this is not another outlet mall, but an actual place of worship.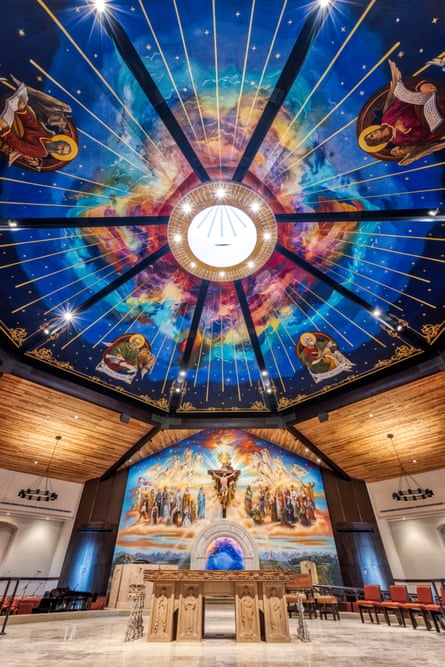 Once inside, that's more than evident. Passing through solid mahogany doors, you are greeted with the big black stone bowl and mosaic pool of a baptismal font, positioned on an axis with the 25-metre wide nave that erupts in a polychromatic fantasy as it reaches the central cupola, terminating with camp crescendo in a retablo painting at the far end. Huge timber trusses of glue-laminated Douglas fir support an exposed cedar ceiling, resting on thick walls – here made of concrete, rather than adobe, to support the 270-tonne roof.
Conceived by liturgical designer Rolf Rohn, the decorations are a technicolour eyeful in the true Catholic tradition. A swirling celestial cloud of fiery red, orange and electric blue billows across the 30-metre diameter dome, signifying the formation of the heavens, from which the four evangelists peer down, flanked by their symbols of a man, lion, ox and eagle. This trippy cosmic scene hovers 20 metres above an altar and ambo, carved from pink Mexican cantera stone, atop an octagonal white travertine platform. Behind, the rear wall flexes out in a convex bulge, to help with acoustics, where a giant crucifix projects above an arched stone portal, held up by the heavenly father, whose gilded cape swishes with a dramatic flourish.
Painted by Mural Arts of San Francisco, whose dazzling portfolio includes the ceiling of Caesars Palace casino in Las Vegas, the retablo painting is a kitsch riot of saints and angels perched on peachy clouds, floating over a dreamy depiction of the Central Valley's pastoral riches, an Edenic landscape of fruit trees and plump cattle. Everything glows with supercharged colour, no drought in sight. This is the liturgy, Vegas style. Each element of the painting provides a handy sponsorship opportunity, too – the heavens can be yours for $125,000, while the saints go for $25,000 a pop.
"We have our own little Vatican," says Rev Alex Chavez, the church's Mexican-born pastor, who worked as a civil engineer for eight years before he was called to the cloth. "Not only is this church beautiful but its size will better serve the expanding Valley and, more directly, the expanding community of Visalia."
The $21m project, which was funded by the Diocese of Fresno and donations from parishioners, is the product of a wider strategy to accommodate the growing congregation, while also addressing the shortage of priests. Since 1980, the number of Catholics in the diocese (which covers an area larger than Ireland) has risen from 307,000 to 1.2 million, largely due to Latino and Asian immigration. But, at the same time, the number of priests has declined by over a quarter. Gruelling hours, a requirement of celibacy, the ban on women priests and global sexual abuse scandals have all been major obstacles to attracting new talent. The answer, instead, has been to consolidate.
The Good Shepherd parish, which will celebrate mass at St Charles Borromeo every Sunday, is an amalgamation of three churches in Visalia, and one in nearby Goshen, numbering 14,000 families in total. Before the pandemic, Chavez and two other priests had to travel between the churches, conducting 11 masses in English and Spanish, but now two priests can conduct five services every Sunday in their new 3,159 sq metres (34,000 sq ft) megachurch.
"We really had to look at queueing science and crowd control," says Russell, explaining how the pews are arranged to avoid bottlenecks during communion, as well as to accommodate the growing size of Americans. "Code says 18 inches per butt, but we've made it more like 22 inches" – in line with the wishes of the previous pastor, who was not a small man. The plan of the building has also been sculpted by sightlines: the nave drops half a metre from the entrance to the centre, while the corners of the crossing have been chamfered so the worshippers can better see each other in the transepts.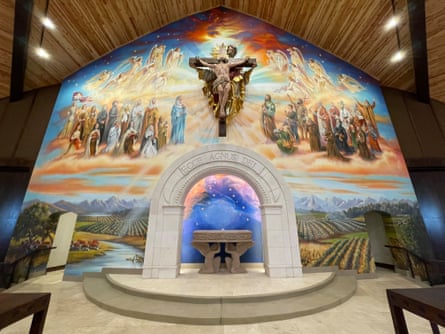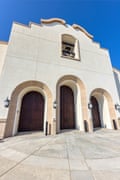 A second phase will see further colourful shrines installed at the ends of these wings, representing the cultural diversity of the congregation, including Our Lady of Guadalupe (Mexico), Our Lady of Fátima (Portugal) and Our Lady of Perpetual Help (the Philippines), featuring vivid iconography from the respective countries. Two forthcoming courtyard gardens flanking the building have also been designed by the local congregations, with native and drought-tolerant plants in mind.
"It's important that the parishioners feel like this is their church," says Rev Monsignor Patrick McCormick, who advised on the artistic decoration. "It's a place where Latino, white, Portuguese, Vietnamese and Filipino, labourers, farmers and professionals alike, can all come together under one big roof."
Late arrivals might just want to bring their binoculars, to be sure to get a good look at the action.
link