Turns out you can go home again. These couples bought their childhood homes, updating them from the scenes of their high-school prom photos to modern forever homes.
An English-Inspired Refresh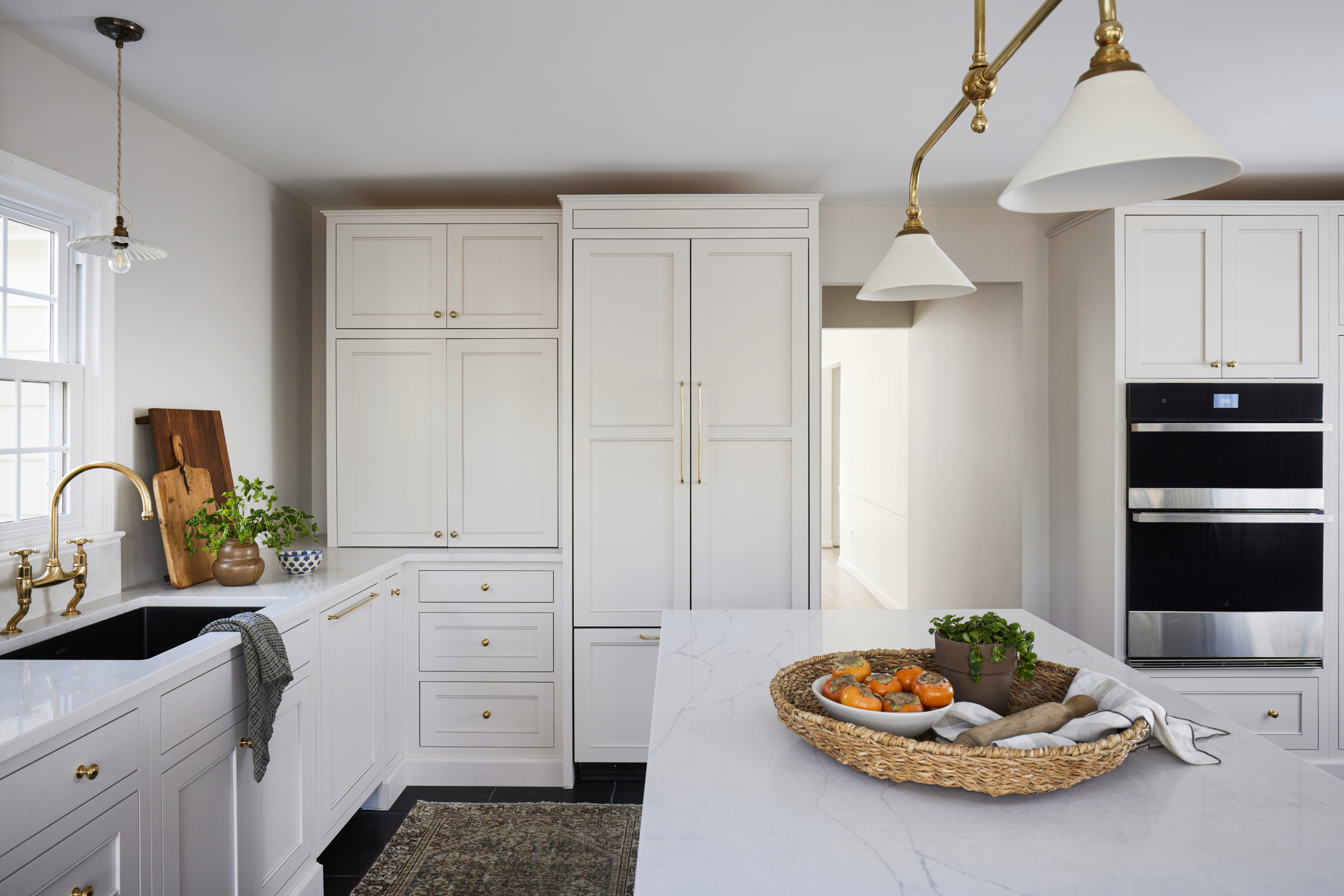 Rick Zimmer, 44, and his wife, Iliana Bravo, 46, both Department of Defense analysts, picked the perfect time to move back to the area after five years in the UK: Zimmer's parents were ready to downsize from his childhood home in Oakton's Miller Heights neighborhood, and they offered to sell the couple the house minus the cost of repairs they'd have needed to complete before listing it. In early 2022, the couple bought it and moved in with their 11-year-old daughter.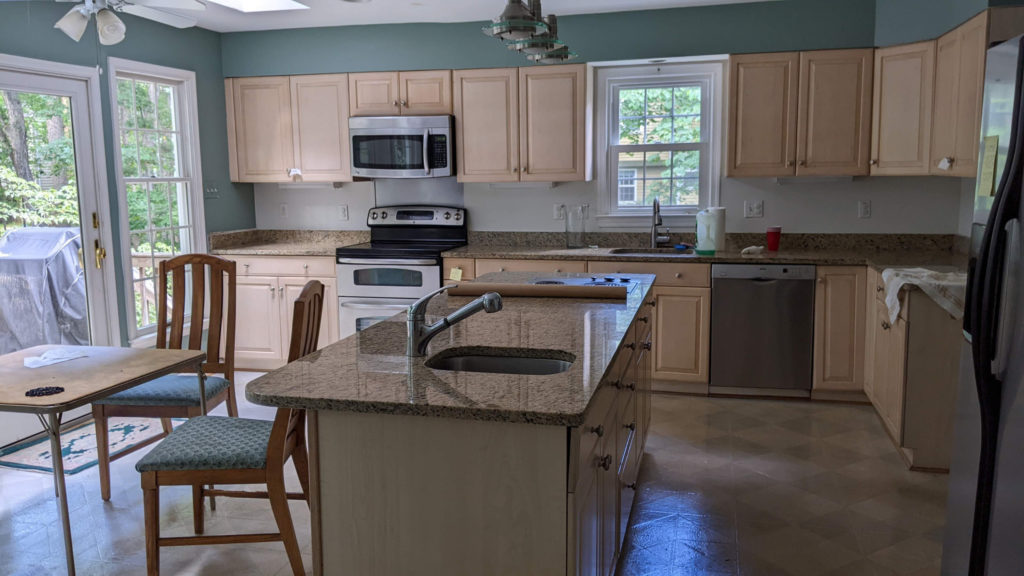 The four-bedroom, three-and-a-half-bath Colonial, which Zimmer's parents bought in 1985, needed fresh paint and new floors. But he and his wife also hired designer Sara Swabb of the DC interior-design group Storie Collective to revamp the kitchen and move a hallway to create a larger mudroom. The couple was inspired by their kitchen in England, which had a streamlined look and hid appliances and cabinets behind paneling. With Swabb, they incorporated the "hidden" look they loved via custom wood inset cabinets that sit flush against the cabinet frame, panel-ready appliances, and crown molding above the refrigerator and pantry cabinets.
---
---
Their English sojourn also informed the kitchen's general aesthetic. "Our vision for this space was to incorporate Old World, handmade elements and the European lifestyle that our clients adopt­ed during their time living abroad," says Swabb, who opted for both ceramic and brass light fixtures, brass fittings and hardware, and Catalina Belgian bluestone floors. Swabb reoriented the existing kitchen island, which makes the space feel more spacious, too. "I had my brother over [for the first time]," Zimmer says, "and he's like, 'Wow, it's like a bigger kitchen.' "
Reimagining Her Childhood Home
In 2012, Gillian McClelland, a now-42-year-old nonprofit worker, and her husband, Jeff, a 45-year-old computer programmer, bought her childhood home in Arlington's Old Dominion neighborhood. Because McClelland's parents offered them a deal, that meant the couple had the budget to update the four-bedroom, two-bath Cape Cod to better fit their family. (Their two daughters are six and ten.)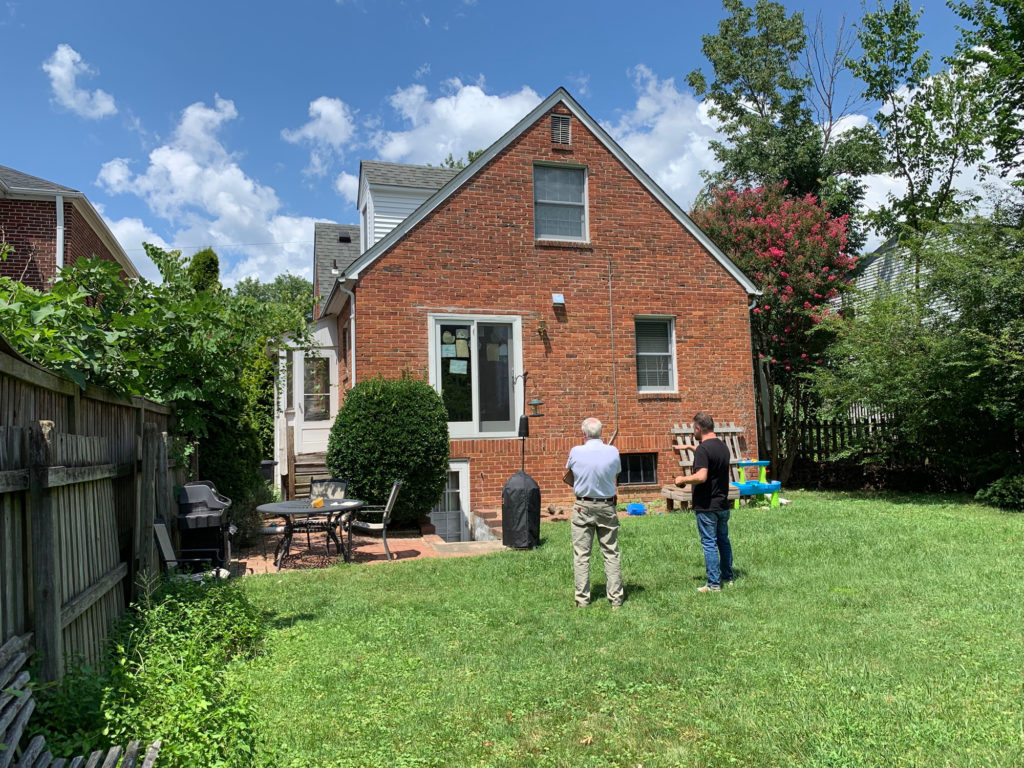 They worked with the Arlington design/build firm TriVistaUSA to turn the house into a shared space, not just Gillian's childhood home. "Obviously, we wanted a nice, modern kitchen with tons of countertop space and cabinets, but I also just wanted it to feel more like ours, as opposed to mine," she says.
"[Gillian] was really onboard with completely reimagining the space that she grew up in," says Michael Sauri of TriVista. To start, she knew she wanted a colorful kitchen: She had gone to college in Southern California and, inspired by the Spanish-style tiles common there, worked with TriVista to design a tulip-patterned backsplash using tiles from Los Angeles–based Lascaux Tile. A green accent wall and butcher-block countertops round out the bright space.
---
---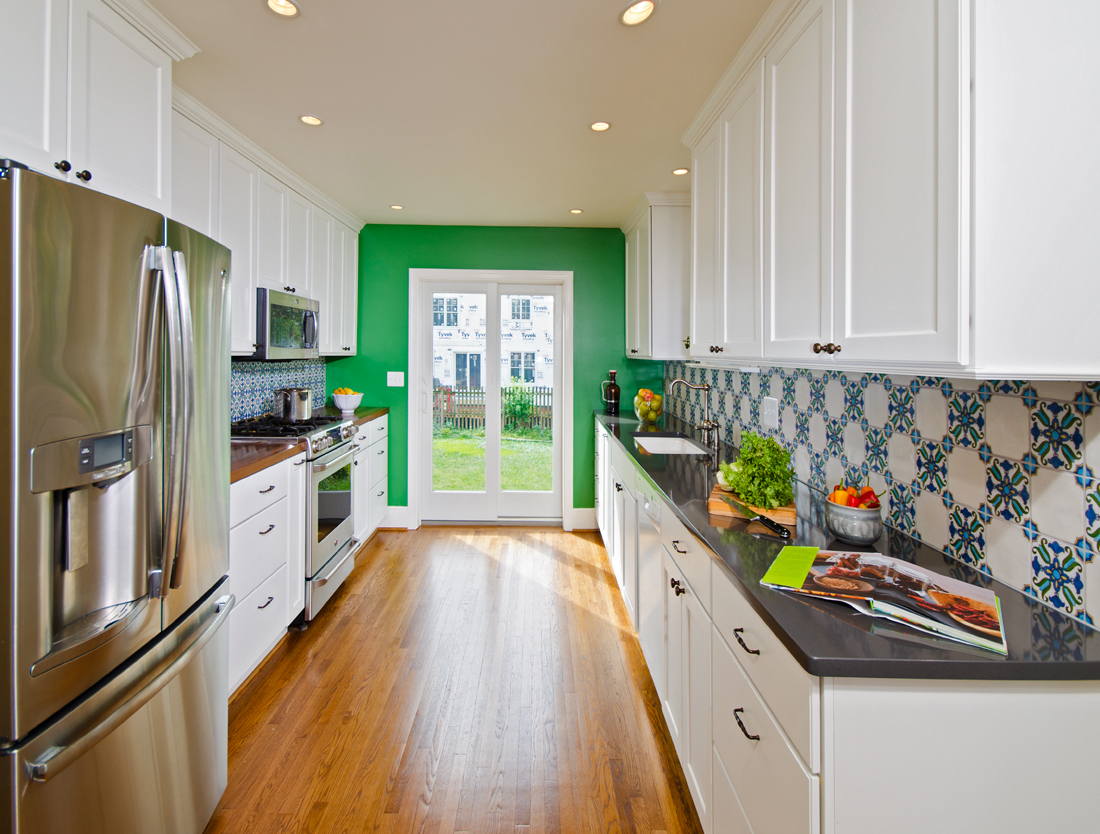 And while the McClellands like to entertain, the home's small rooms make that hard. So right before the pandemic, they added a patio, a hot tub, and a screened porch constructed from pressure-­treated lumber for a natural feel. The hot tub comes with low decorative screens that offer privacy without feeling claustrophobic, and a sliding barn door on the porch takes up less space than a swinging door, meaning more room for hosting.
---
---
Multigenerational Living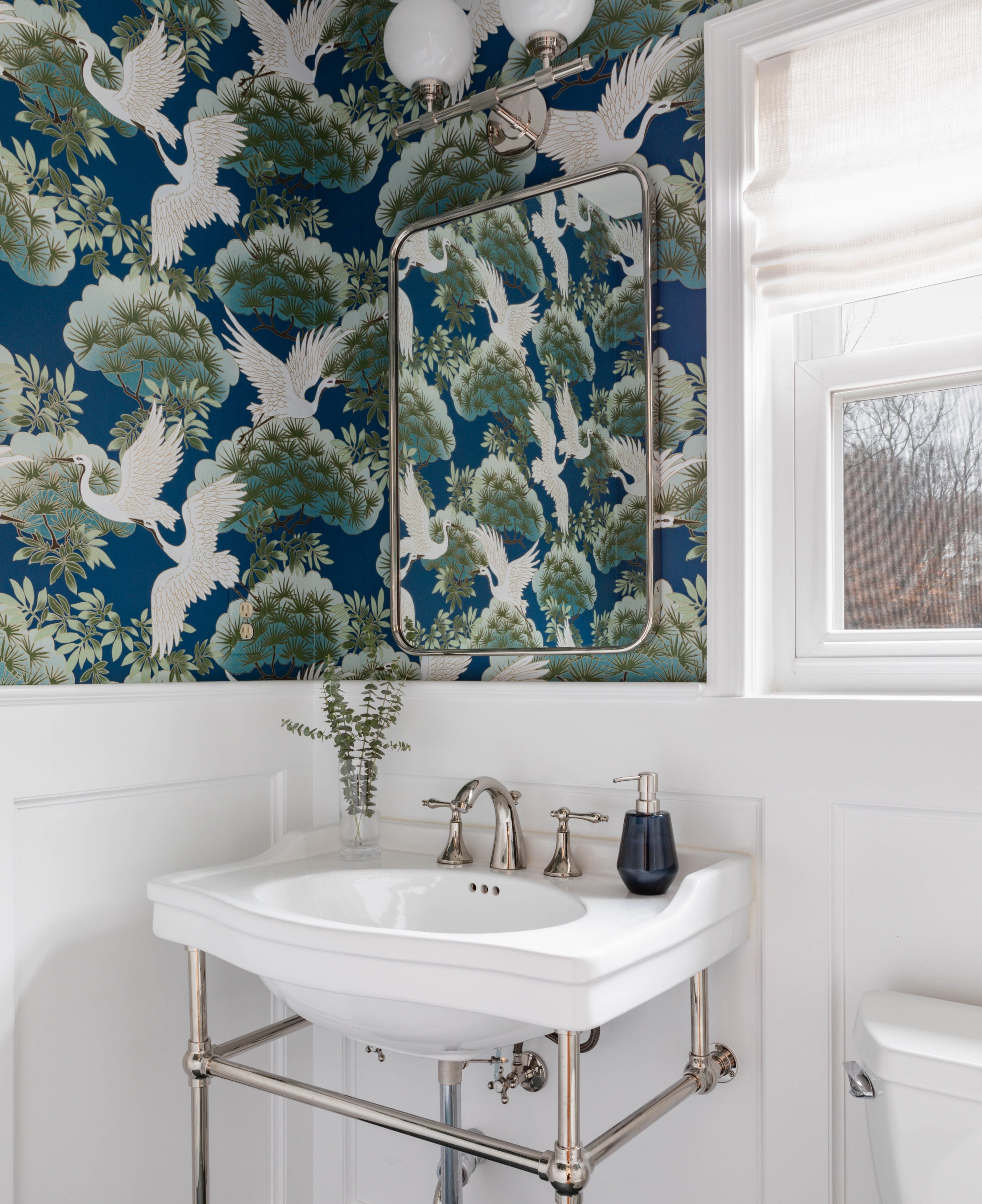 Julie DeFrain, 42, and her husband, Joshua, 38, bought her childhood home—a five-bedroom, four-and-a-half-bath Colonial in McLean's Chesterbrook Woods neighborhood—in 2016. Today, the couple (Julie is an attorney; her husband works in cybersecurity) live there with their two children, ages five and eight, and Julie's parents.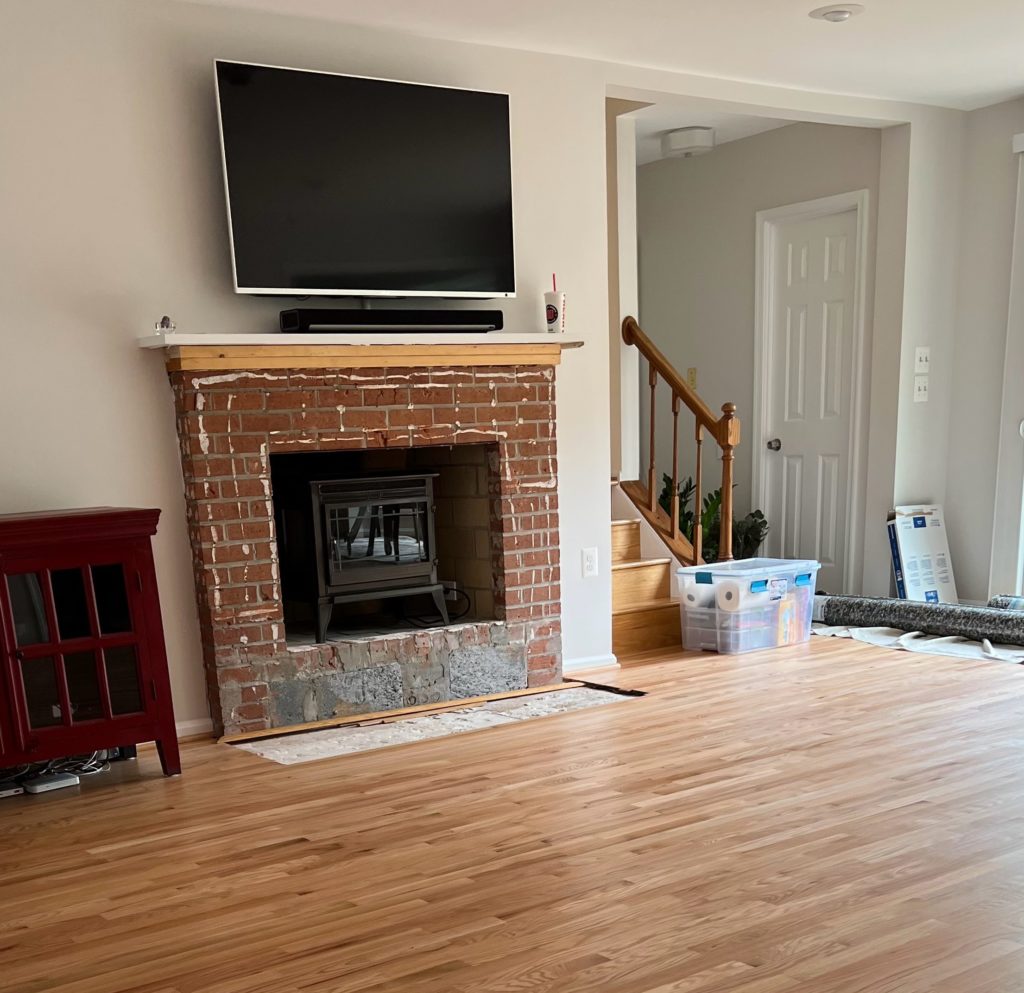 Before moving, the DeFrains renovated to better equip the house for multigenerational living. They added a walk-in pantry that can store food for six, refurbished a staircase, and installed a soundproof wall and door in the hallway leading to the couple's primary suite and their kids' bedrooms. (The grandparents' bedroom is accessible by its own stairway.) They also transformed the formal dining room into a play space, where their children tumble on gymnastic mats.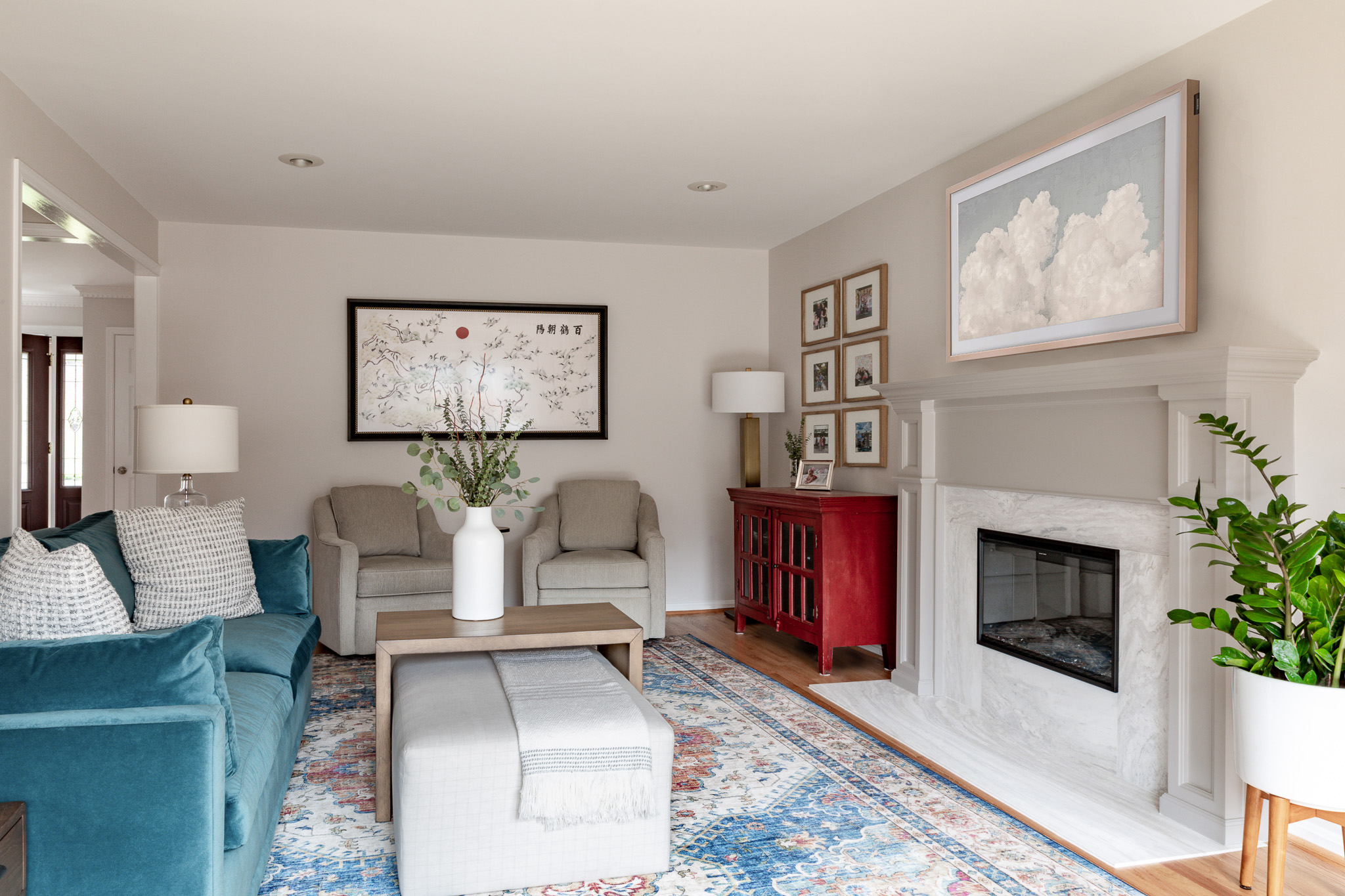 And last fall, they overhauled the house's decor so it no longer felt like "walking into the '90s," says Julie. Her parents' taste was more "museum-­style," with "antique knickknacks and fancy furniture," which wouldn't work for the young, energetic family. "Our house is full of life and action every day," she says. "[We needed] spaces that could be lived in and wouldn't need to be tiptoed around."
The family worked with Alexandria designer Asha Maxey of Asha Maía Design to renovate a powder room, update a fireplace with marble, and refresh the family room. The last of these now features a red console and artwork depicting cranes. The bird motif continues in the new powder room with the York Wallcoverings heron wallpaper. Wainscoting painted with Benjamin Moore's "Chantilly Lace" complements the pattern.
---
---
This article appears in the February 2023 issue of Washingtonian.
link