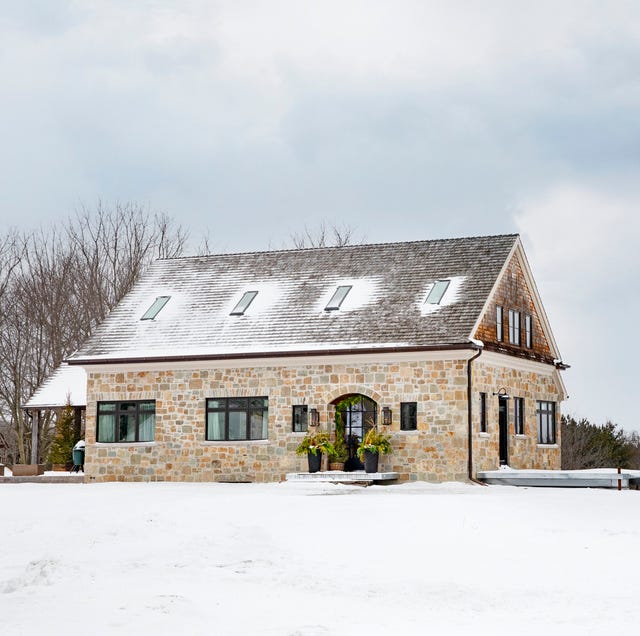 Virginia Macdonald
You would be hard-pressed to conjure a more idyllic setting for the holidays than interior designer Angela Wheeler's dreamy Canadian stone house. The perennially powdered landscape and frozen pond set the scene for ice-skating and hot chocolate next to a mobile warming hut her husband, Josh Malcolm, created with a canvas tent propped on logs culled from their 75 acres. It's there, at the so-named "prospector's tent," that the couple's four rosy-cheeked children, Aiden (14), Jessie (12), Stella Jane (10), and Will (5), cuddle up with camp blankets between toboggan runs.
Angela and Josh began building their farmhouse nine years ago, with "cozy" as their aesthetic true north. They opted out of a long, rambling house in favor of a compact, barn-inspired shape and rugged materials indicative of the storied Belgian farmhouses they both love, such as a cedar roof and dolomite limestone-clad walls. "We didn't want it to be a 'wow!' " Angela says. "We wanted it to have a quiet beauty, so we kept it simple."
Thoughtful details, which Angela documents on her Instagram feed @buildingwalnutfarm, can be found throughout the property. The spruce Christmas tree was foraged from the woods behind the house. The kitchen table was milled by a family friend out of old cedar telephone poles. There's even more meaning tucked away in the architecture, including a memento-filled time capsule their stone mason embedded into the house near the front door. (It includes a handwritten letter, family photo, the home's blueprint, and a LEGO Minifigure, among other items.) "In our old home, we were always finding things in the floorboards like little old toys, so it made sense we would put something like this in our own house for future generations to someday discover," says Angela.
Step inside Angela and Josh's cozy farmhouse…
Advertisement – Continue Reading Below
Angela forages cedar and pine clippings from trees on their farm to make swags of garlands throughout her house. "We have endless amounts of pine trees," she says. "Sometimes we'll have friends over for garland- and wreath-making parties." Angela also designed the entry's console table out of reclaimed pine the couple had leftover in their woodshop. "I knew what I wanted there but I couldn't find it, so I made it myself," she says.
RELATED: DIY Christmas Wreaths to Give Your Guests the Prettiest Welcome
Humble, natural textures in the living room invite the family to linger. A mix of hard and soft materials strikes a comfy balance, from the patterned curtain panels and linen slipcovered furniture to the stone fireplace and reclaimed wood coffee table. Under foot, the concrete floors have radiant heat, providing much of the home's warmth. Angela says she also light the fire to take the edge off on cold mornings. "It draws you in," she says. "I often find the kids reading books directly in front of it."
Although the house architecturally is simple, Angela made open spaces seem more intimate with gestures like the arched entry to the den. When the couple bought the farm, they planted some 11,000 seedlings as part of a government-subsidized program. Every December, the family heads into their woods in search of that year's perfect spruce, which they lovingly decorate with handmade ornaments Josh and the kids make from the property's walnut trees and adorn with family photos. "There's always a little 'Charlie Brown' happening, with one or two sides a little spare," says Angela.
The impressive nine-foot-long farm table was made out of old cedar telephone poles. Josh built the flanking benches out of reclaimed wood. "I love an eat-in kitchen," says Angela. "I can serve directly from the stove." But in the days leading up to Christmas, it's Santa's workshop that expands across the hefty work surface. Remnants of construction paper and Mod Podge take over the surface on one day and marshmallows and gumdrops mixed with gobs of white frosting on another. "It's a bit crude. You know, your classic kindergarten crafts," says Angela.
Friendly faces and familiar landscapes are captured in the gallery of vintage paintings, most of which Angela scored at country auctions, save for the top left portrait of an older man. "I grew up with him," Angela says of the portrait her parents picked up in Germany while her father was in the military. Beyond, a small walk-in pantry offers an out-of-sight spot to stow away kitchen essentials. "I try to keep my sight lines clean so there aren't small appliances that are distracting," she says.
Even hard-working spaces exude charm, like the utility room that Angela outfitted with a 1940s concrete laundry sink she found online for just $50. A simple marble backsplash and $50 industrial faucet pop against the board-and-batten wainscoting coated in forest green. More of Angela's foraged farm clippings bring in a touch of holiday, like her rustic wreaths and less-is-more approach to layering branches in a basket.

Get the Look:
Wainscotting Paint Color: Backwoods by Benjamin Moore
RELATED: Vintage Christmas Decorations That Will Never Go Out of Style
Inspired by English country houses, in the next door mudroom Angela cleverly positioned two rows of pegboards, one low enough for the kiddos to reach. Above the wainscotting, she reframed a set of farm scenes and game hunting illustrations she picked up from an auction.
Indoor Outdoor Living Room
A pair of 1970s armchairs Josh found (one was a roadside cast-off; the other he picked up at a charity shop) flanks the porch table. Even though they're upholstered, Angela doesn't worry about them being exposed to the elements because they are repurposed.
Angela Weaver and Josh Malcolm's canvas-topped "prospector's tent" is outfitted with a bed and wool blankets so the kids (Aiden, Jessie, Stella Jane, and Will) can transition from snow angels to snuggles. Josh built the hut with a canvas tent propped on logs culled from their 75 acres. It sits on a trailer so it can be easily moved around the farm as needed for snow days or as guest quarters when the house overflows with visiting friends and family.
Tour More Cozy Christmas Houses!
Advertisement – Continue Reading Below

link